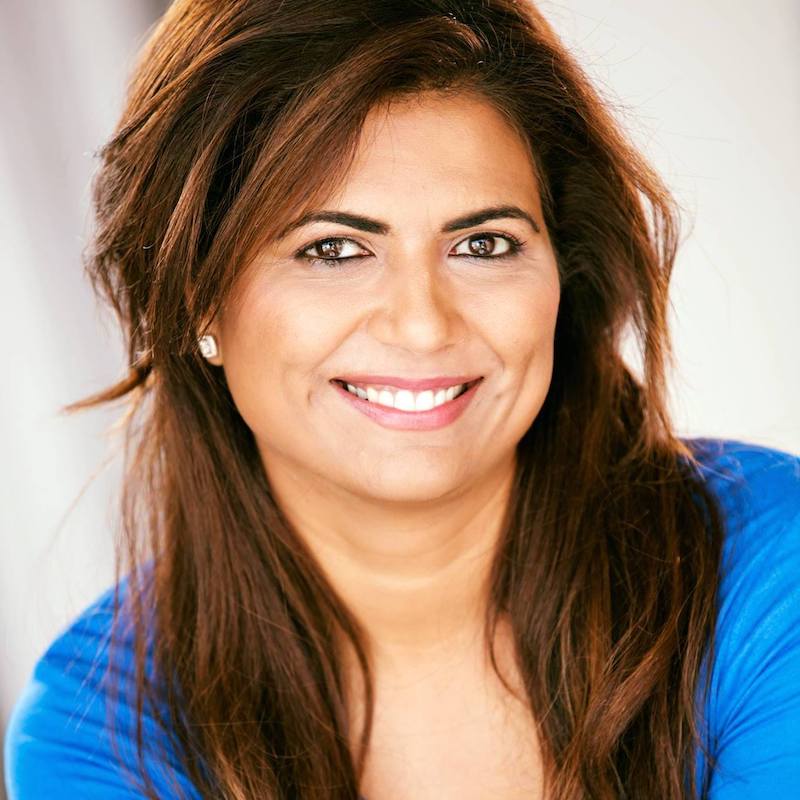 BEHIND THE
COMEDIAN
but not the back boobs
THE STORY
"she's created a singular niche — and a hilarious one at that" – LA Weekly
Mona Shaikh is a stand-up comedian, host, actor and producer of Minority Reportz. She most recently headlined The Laugh Factory, wrote an Op-Ed in The Hollywood Reporter, appeared on CNN, Cheddar News and MSNBC. She also emcee'd the Women's March in SF in Jan 2019 and made history by being the first South Asian/Middle Eastern Female Comedian to perform in front of over 60,000 people! She's been featured in Forbes, LA Times, Newsweek, The Guardian, LA Weekly, New York Post, Huffington Post, Washington Post and BBC. She can also be seen regularly on The Young Turks, The Stephanie Miller Show on SiriusXM and Mo'Kelly Show on IHeartRadio. Mona has also headlined in Dubai, Portugal as well as London. In addition to being seen all around Los Angeles at major comedy clubs as The Comedy Store, Flappers Comedy Club, The Laugh Factory, Ice House Pasadena, Hollywood Improv and many more, she hosted the Hollywood Improv for Comedy Juice night with Dane Cook. She became the first Pakistani female Comedian to be selected for the Laugh's Factory Funniest Person in the World Competition and made history by becoming the first Pakistani female Comedian to headline Hollywood Improv.
Mona Shaikh got her start in comedy as a complete accident. Having grown up in Pakistan watching Bollywood movies, at 8 years old when Mona laid her eyes on her favorite Bollywood actress she knew what she wanted to do, she wanted to be a performer. Mona performed her first open mic at Comix Comedy Club in NYC, after a friend suggested she pursue stand-up comedy. However, her conservative Pakistani Muslim upbringing prevented her from pursuing her dream for another 10 years. Later, Mona rebelled and moved out of her family's home to relocate to the Big Apple and pursue her acting career. With half of her life spent in a prominent conservative Muslim household, and the other immersed with America's entertainment and culture, Mona knew she was set out to break boundaries. Despite her challenges, shortly after moving to New York and landing numerous gigs, Mona was no longer limited to theatre and soon appeared in commercials as the global face of Kodak, a pharmacist for Wal-Mart, an Indian Mom for Cablevision and a businesswoman for Deutsche Bank, in addition to acting in various independent features and short films.
In her journey as a comedian, she's combined a South Asian sensibility with Americanized values cherishing the First Amendment—the right to bear big mouths. And her fresh, fearless, free speech has raised eyebrows and landed her features in LA Weekly. With her offbeat sense of humor Shaikh is a tightrope walker striving to maintain equilibrium while dealing with conflicting forces.
Today Mona resides in Los Angeles, Calif. She got her own show and again made history at The World Famous Comedy Store in Los Angeles called Minority Reportz with a launch of sold-out shows around the country. pursing her career as a comedian and actor while developing her upcoming One-Hour Special. You can catch her as Donna Abbasi on The Rookie on ABC and as Reina Rafter on Apple TV+ Helpsters.
Be on the look out for Mona Shaikh coming to a stage, radio and television near you.
"There are not many women from her culture who venture in this space"- Spectrum News One